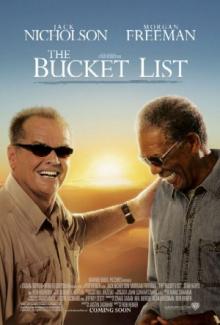 What's On Your Bucket List?
The term "bucket list" was around before 2007, but it was popularized that year by the Jack Nicholson/Morgan Freeman film about two terminally ill guys who travel around the world with a list of to-dos before they "kick the bucket." They find, in their travels, that some of the more trivial items take on deeper significance. An especially touching scene happens when Nicholson as Edward reconciles with his estranged daughter and meets his little granddaughter for the first time. He kisses her on the cheek and then crosses "kiss the most beautiful girl in the world" off the list.
I like that because for me it turns the idea of creating a before-I-die agenda into something more than random thrill-seeking or self-centered yearnings. Yes, some of the items I come up with may seem frivolous, but who knows what they could morph into if I pursue them? Anyway, as Eleanor Roosevelt famously said, "The purpose of life, after all, is to live it, to taste experience to the utmost, to reach out eagerly and without fear for newer and richer experience."
In that spirit, then, I decided to write the top ten items on my current bucket list. My rules were simple: I allowed myself to make believe that I have all the resources I would need to fulfill my dreams, and I pretended that I could drop everything right this minute to start making those dreams come true. Here's the result:
I'd like to arrange and host a 10th-anniversary reunion next year of the friends and family who were guests at my daughter and son-in-law's wedding on July 19th 2003 in Montana's Glacier National Park. What fun it would be to get everyone together again and to meet the new generation of children born since then!
I'd like to go back to places I lived and visited as a 20-something ex-pat: The village of Ierapetra on the south coast of Crete . . . Athens . . .Cyprus. . . Beirut and Baalbek . . . Israel . . . Cairo and Luxor . . . Istanbul . . . Paris . . .Rome . . . London . . . and stops in between.
I'd like to go back to Madrid where I lived when I was 17 as an exchange student. And I would travel, as I did then, all over Spain. The highlight was dancing with the Gypsies of the Sacramonte near the Alhambra!
I'd like to rent an RV and drive from coast to coast. My mother and I used to drive across country every summer when I was a child and she was on vacation from her job as a teacher. The memories of our trips are as potent and exciting as ever. Travelling those miles again would let me see what has changed and what hasn't.
I'd like to read all the English literature classics. I was a Spanish major so I never read as many of the great English-language books as I would have liked.
I'd like to brush up my Spanish, which was once nearly native in fluency but has suffered from lack of use.
I'd like to go to the ballet every evening when the American Ballet Theatre and the New York City Ballet are in season at Lincoln Center.
I'd like to go to every Broadway show that opens, whether the reviews are good or bad.
I'd like to "die with my boots on," meaning that I'd like to be able to keep doing the work I love for as long as I live.
I'd like to stick with a healthy lifestyle so that I can take advantage of the longevity genes that run in my family. I just might be lucky enough to watch my grandsons grow into young men and I could even stay around long enough to be blessed with great grandchildren. Achieving "Great Nana" status would make my life feel richer and more fortunate than any other adventure or accomplishment I can imagine!
That's my list. Why not go over to the ThirdAge forum and share yours? We'd love to know what your wishes and aspirations are!
Sondra Forsyth is a Senior Editor at ThirdAge.com