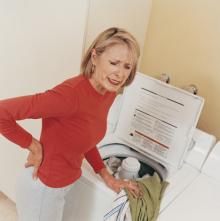 Pain Management
When To See A Pain Specialist
From the Cleveland Clinic
Editor's Note: Chronic pain is one of the most common conditions afflicting Americans; varying statistics have estimated that anywhere from 76 million to 116 million people suffer from it. According to the National Institutes of Health, it is the most common cause of long-term disability, and it affects more Americans than heart disease, diabetes and cancer combined. To adequately treat chronic pain, it's essential to treat the cause of the pain rather than relying on "band-aid treatments" such as prescriptions that only dull the pain. Here, an expert from the Cleveland Clinic shares strategies for handling this debilitating condition.
How long should you put up with arthritis or joint pain, an aching neck or back, or pain resulting from a surgery or injury?
According to Daniel Leizman, MD, a pain management specialist at Cleveland Clinic's Pain Management Center at Hillcrest Hospital, pain is traditionally considered chronic if it lasts for more than three months. This includes pain that involves the spine or joints, cancer pain, nerve pain, unusual pain of the limbs, prolonged abdominal or pelvic pain, or pain after surgery.
Find the real cause of pain
"When an individual is experiencing pain for an extended period of time, or is under the care of a primary or specialty care physician and still experiencing pain, it's time to seek help from a pain management specialist," Leizman says. "It's important to see a pain physician before resorting to taking narcotic medications for a long time or undergoing multiple injection procedures without knowing the cause of the pain."
Leizman works with patients, primary care physicians and other specialists to establish an accurate diagnosis — determining what is causing the problem so he can accurately treat the problem.
He then develops a multidisciplinary treatment plan, which may include:
Use of medications
Further diagnostic testing
Referral to other specialists
Involvement of a pain psychologist
Physical therapy
Injection procedures using steroids or nerve blocks
Ongoing monitoring and follow-up
Treatment goals
"For every patient, the goal is to diagnose the problem, to restore and optimize function, and to decrease pain," he says. "Every patient also provides an opportunity to address lifestyle choices.
"If someone who's overweight and inactive comes in with a sprained ankle, I try to educate them about healthy eating and exercise with the goal of helping them ward off more problems in the future," Leizman says.
Reprinted with permission from health.clevelandclinic.org. For more information, visit health.clevelandclinic.org.