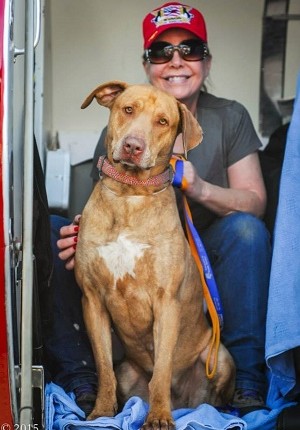 Pets
"Wings of Rescue" Flies Shelter Pets to Loving Homes For Valentine's Day
Valentine's Day is a day to celebrate everyone you love the most…including our furry friends! And one organization's dedication to saving the lives of pets—on Cupid's Day, and every day—proves that when it comes to unconditional love, the sky's the limit.
Overcrowding in animal shelters is a huge problem across the U.S., so much so that shelters often have to euthanize animals for lack of room and adoptive families. This heartbreaking reality is what led pilot Cindy Smith (pictured) to co-found Wings of Rescue, a nonprofit group of volunteer pilots who fly pets from overcrowded shelters to rescue.
"Animal overpopulation is prevalent in warmer parts of the country, like Southern California, due to longer breeding cycles," explains Smith. "On the other hand, there's a demand for pets in colder locations like the Pacific Northwest and Canada. Wings of Rescue flies animals to areas where there is space for them, guaranteeing that each one gets adopted into a loving home." Often times, WOR receives requests from specific shelters to transport a certain number of animals, where otherwise, they would have been put down due to over-capacity.
The organization has about 25 volunteer pilots with high-performance aircrafts who fly animals to safety in just a three- or four-hour flight. Ground transit can take days and be stressful on the animals. Smith flies her flagship Pilatus (a single engine turbine aircraft) about two to three times a week, transporting up to 110 dogs and cats to safety each trip. When she's not the one at the controls, she'll ride in the back to play with the animals or let the puppies out to nurse. "We are saving these pets' lives and giving them a second chance," says Smith. "It's wonderful to know there is a loving home waiting for each one of them."
In honor of Valentine's Day this year, WOR is hosting their "Love Is In The Air" freedom flight on February 13th —they'll be flying 200 shelter pets from Oklahoma to Seattle, where eight receiving rescues and humane societies will welcome the animals.
Smith, who has "a lot of dogs" of her own (everything from a Chihuahua to a Great Dane mix to foster pups), encourages everyone to adopt, not shop, when getting a pet. Additionally, reach out to your local shelters to find out about volunteering and other ways to help. It's also important to practice responsible pet ownership and spay or neuter your pet.
Smith loves her work, but says she would love to stop one day, because there are no more unwanted animals to rescue. "We hope to be put out of business one day," she says.
To sponsor a pet on the upcoming "Love Is In The Air" flight, or to make a tax-deductible donate to Wings of Rescue, visit their website: www.wingsofrescue.org.
Happy Valentine's Day to shelter animals and their loving humans!
Brooke L. Sager is a New York City-based writer who specializes in health, lifestyle and beauty. To read more of Brooke's work, visit www.brookelsager.com.