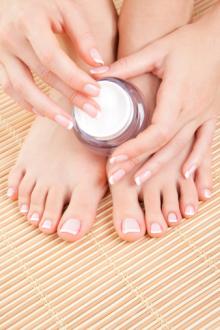 Winterizing Diabetic Feet
Cold winters can be a challenge for all of us who want to stay active. For people who have diabetes mellitus, facing the elements can be especially challenging and should be approached with caution. Georgeanne Botek, DPM Medical Director of Cleveland Clinic's diabetic foot clinic suggests the following tips to keep feet healthy:
*Our skin tends to get dry in the winter, which can lead to cracked skin. Be sure to keep your feet moisturized by applying good skin lotion, but be careful not to leave any between your toes.
*Protect your feet from extreme temperatures (cold or hot) by wearing socks that fit well and have soft elastic at the top. When active, consider wicking socks that will keep the moisture away.
*Make sure that your winter boots and footwear fit properly so they don't constrict the blood flow to your feet. With a loss of protective sensation, cold weather can inhibit a person with diabetes from knowing when they are at risk for developing frostbite or when a pair of boots is too tight fitting and narrow.
*If your feet get wet from slush, rain or snow, immediately remove your shoes and socks and dry your feet.
*When you are sitting for prolonged periods, put your feet up and give your feet a workout by doing circular motions with your ankles and wiggling your toes.
*As always, wash and dry your feet every day and examine the tops and bottoms of your feet for cracked skin, blisters, sores and redness or tenderness. If a problem persists, see your doctor.
*Cut your toenails after bathing when they are soft. Cut them straight across and use an emery board to smooth them. Don't let your nails dig in to the foot.
*As always, eat a healthy diet and keep your blood sugar in your target range.